You may find a cheaper price but you will never find a better constructed Adirondack Chair.
Anywhere.
Western Red Cedar , Australian Timber Oil finish, no exposed hardware, 7 inch wide arms, curved back support and seat. All leg end grain is epoxy sealed to prevent water intrusion significantly prolonging the chair life.
We build these chairs to conform to your body dimensions.
We have had a very positive response to these chairs and are currently delivering chairs 30-60 days after orders are received. Due to the customized nature of our chairs we require a deposit of 50% at time of order.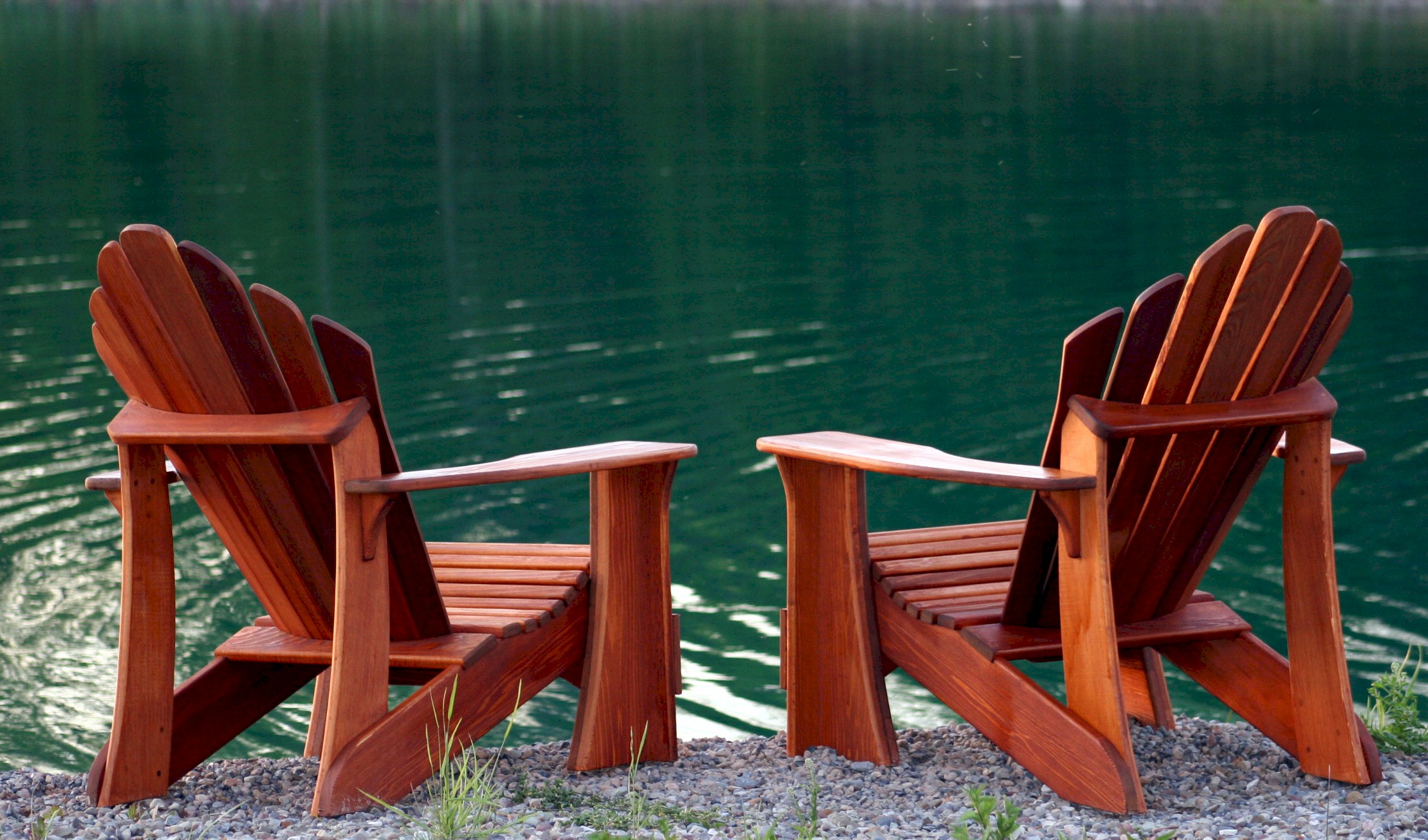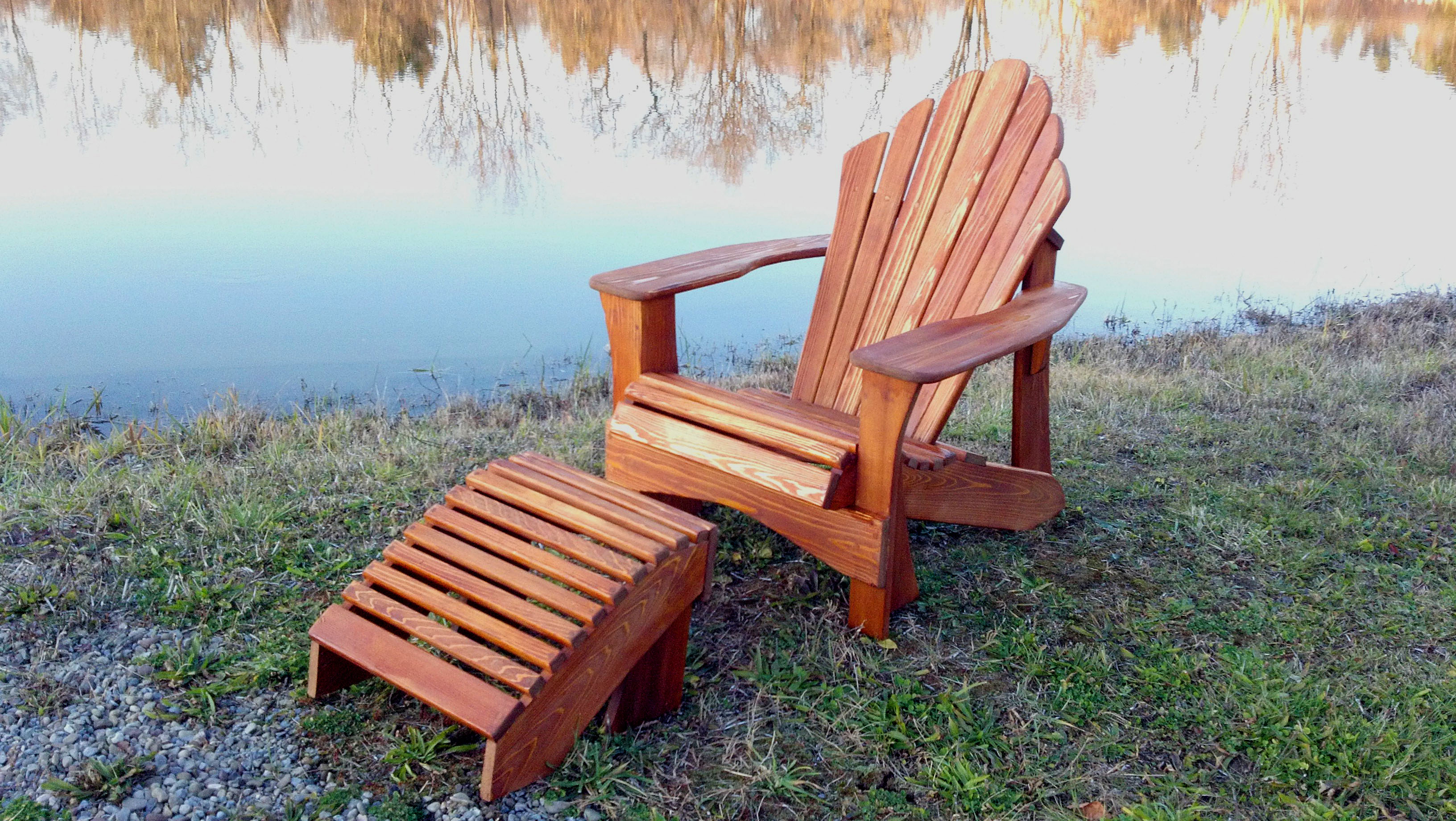 Ottoman
Because our costs for Western Red Cedar often fluctuate pricing is always subject to change without notice. Please send us an email for a current quote.
Pricing
| | |
| --- | --- |
| Western Red Cedar, Timber Oil Finish, Concealed Hardware (as pictured) | $695 |
| Ottoman | $ 225 |
| Sitka Spruce, assembled but unfinished, Concealed Hardware | $285 |
| | |
Discounts available on orders of 4 or more chairs.
All Cedar chairs are guaranteed against defects/failure for 3 years from date of purchase.
For more information please email: sales@northwindkayaks.com
NorthWind Expedition Kayaks
West Lake Road, Skaneateles, NY 13152
Adirondack chair adirondack chair adirondack chair adirondack chair Adirondack chair adirondack chair adirondack chair adirondack chair Adirondack chair adirondack chair adirondack chair adirondack chair adirondack chair
outdoor furniture outdoor furniture outdoor furniture outdoor furniture outdoor furniture outdoor furniture outdoor furniture outdoor furniture outdoor furniture outdoor furniture outdoor furniture outdoor furniture outdoor furniture
Adirondack chair adirondack chair adirondack chair adirondack chair Adirondack chair adirondack chair adirondack chair adirondack chair Adirondack chair adirondack chair adirondack chair adirondack chair adirondack chair
outdoor furniture outdoor furniture outdoor furniture outdoor furniture outdoor furniture outdoor furniture outdoor furniture outdoor furniture outdoor furniture outdoor furniture outdoor furniture outdoor furniture outdoor furniture
Adirondack chair adirondack chair adirondack chair adirondack chair Adirondack chair adirondack chair adirondack chair adirondack chair Adirondack chair adirondack chair adirondack chair adirondack chair adirondack chair
outdoor furniture outdoor furniture outdoor furniture outdoor furniture outdoor furniture outdoor furniture outdoor furniture outdoor furniture outdoor furniture outdoor furniture outdoor furniture outdoor furniture outdoor furniture
Adirondack chair adirondack chair adirondack chair adirondack chair Adirondack chair adirondack chair adirondack chair adirondack chair Adirondack chair adirondack chair adirondack chair adirondack chair adirondack chair
outdoor furniture outdoor furniture outdoor furniture outdoor furniture outdoor furniture outdoor furniture outdoor furniture outdoor furniture outdoor furniture outdoor furniture outdoor furniture outdoor furniture outdoor furniture
Adirondack chair adirondack chair adirondack chair adirondack chair Adirondack chair adirondack chair adirondack chair adirondack chair Adirondack chair adirondack chair adirondack chair adirondack chair adirondack chair
outdoor furniture outdoor furniture outdoor furniture outdoor furniture outdoor furniture outdoor furniture outdoor furniture outdoor furniture outdoor furniture outdoor furniture outdoor furniture outdoor furniture outdoor furniture
Adirondack chair adirondack chair adirondack chair adirondack chair Adirondack chair adirondack chair adirondack chair adirondack chair Adirondack chair adirondack chair adirondack chair adirondack chair adirondack chair
outdoor furniture outdoor furniture outdoor furniture outdoor furniture outdoor furniture outdoor furniture outdoor furniture outdoor furniture outdoor furniture outdoor furniture outdoor furniture outdoor furniture outdoor furniture
Adirondack chair adirondack chair adirondack chair adirondack chair Adirondack chair adirondack chair adirondack chair adirondack chair Adirondack chair adirondack chair adirondack chair adirondack chair adirondack chair
outdoor furniture outdoor furniture outdoor furniture outdoor furniture outdoor furniture outdoor furniture outdoor furniture outdoor furniture outdoor furniture outdoor furniture outdoor furniture outdoor furniture outdoor furniture
Adirondack chair adirondack chair adirondack chair adirondack chair Adirondack chair adirondack chair adirondack chair adirondack chair Adirondack chair adirondack chair adirondack chair adirondack chair adirondack chair
outdoor furniture outdoor furniture outdoor furniture outdoor furniture outdoor furniture outdoor furniture outdoor furniture outdoor furniture outdoor furniture outdoor furniture outdoor furniture outdoor furniture outdoor furniture
Adirondack chair adirondack chair adirondack chair adirondack chair Adirondack chair adirondack chair adirondack chair adirondack chair Adirondack chair adirondack chair adirondack chair adirondack chair adirondack chair
outdoor furniture outdoor furniture outdoor furniture outdoor furniture outdoor furniture outdoor furniture outdoor furniture outdoor furniture outdoor furniture outdoor furniture outdoor furniture outdoor furniture outdoor furniture
Adirondack chair adirondack chair adirondack chair adirondack chair Adirondack chair adirondack chair adirondack chair adirondack chair Adirondack chair adirondack chair adirondack chair adirondack chair adirondack chair
outdoor furniture outdoor furniture outdoor furniture outdoor furniture outdoor furniture outdoor furniture outdoor furniture outdoor furniture outdoor furniture outdoor furniture outdoor furniture outdoor furniture outdoor furniture
Adirondack chair adirondack chair adirondack chair adirondack chair Adirondack chair adirondack chair adirondack chair adirondack chair Adirondack chair adirondack chair adirondack chair adirondack chair adirondack chair
outdoor furniture outdoor furniture outdoor furniture outdoor furniture outdoor furniture outdoor furniture outdoor furniture outdoor furniture outdoor furniture outdoor furniture outdoor furniture outdoor furniture outdoor furniture
Adirondack chair adirondack chair adirondack chair adirondack chair Adirondack chair adirondack chair adirondack chair adirondack chair Adirondack chair adirondack chair adirondack chair adirondack chair adirondack chair
outdoor furniture outdoor furniture outdoor furniture outdoor furniture outdoor furniture outdoor furniture outdoor furniture outdoor furniture outdoor furniture outdoor furniture outdoor furniture outdoor furniture outdoor furniture
Adirondack chair adirondack chair adirondack chair adirondack chair Adirondack chair adirondack chair adirondack chair adirondack chair Adirondack chair adirondack chair adirondack chair adirondack chair adirondack chair
outdoor furniture outdoor furniture outdoor furniture outdoor furniture outdoor furniture outdoor furniture outdoor furniture outdoor furniture outdoor furniture outdoor furniture outdoor furniture outdoor furniture outdoor furniture
Adirondack chair adirondack chair adirondack chair adirondack chair Adirondack chair adirondack chair adirondack chair adirondack chair Adirondack chair adirondack chair adirondack chair adirondack chair adirondack chair
outdoor furniture outdoor furniture outdoor furniture outdoor furniture outdoor furniture outdoor furniture outdoor furniture outdoor furniture outdoor furniture outdoor furniture outdoor furniture outdoor furniture outdoor furniture
Adirondack chair adirondack chair adirondack chair adirondack chair Adirondack chair adirondack chair adirondack chair adirondack chair Adirondack chair adirondack chair adirondack chair adirondack chair adirondack chair
outdoor furniture outdoor furniture outdoor furniture outdoor furniture outdoor furniture outdoor furniture outdoor furniture outdoor furniture outdoor furniture outdoor furniture outdoor furniture outdoor furniture outdoor furniture
Adirondack chair adirondack chair adirondack chair adirondack chair Adirondack chair adirondack chair adirondack chair adirondack chair Adirondack chair adirondack chair adirondack chair adirondack chair adirondack chair
outdoor furniture outdoor furniture outdoor furniture outdoor furniture outdoor furniture outdoor furniture outdoor furniture outdoor furniture outdoor furniture outdoor furniture outdoor furniture outdoor furniture outdoor furniture
Adirondack chair adirondack chair adirondack chair adirondack chair Adirondack chair adirondack chair adirondack chair adirondack chair Adirondack chair adirondack chair adirondack chair adirondack chair adirondack chair
outdoor furniture outdoor furniture outdoor furniture outdoor furniture outdoor furniture outdoor furniture outdoor furniture outdoor furniture outdoor furniture outdoor furniture outdoor furniture outdoor furniture outdoor furniture
Adirondack chair adirondack chair adirondack chair adirondack chair Adirondack chair adirondack chair adirondack chair adirondack chair Adirondack chair adirondack chair adirondack chair adirondack chair adirondack chair
outdoor furniture outdoor furniture outdoor furniture outdoor furniture outdoor furniture outdoor furniture outdoor furniture outdoor furniture outdoor furniture outdoor furniture outdoor furniture outdoor furniture outdoor furniture
Adirondack chair adirondack chair adirondack chair adirondack chair Adirondack chair adirondack chair adirondack chair adirondack chair Adirondack chair adirondack chair adirondack chair adirondack chair adirondack chair
outdoor furniture outdoor furniture outdoor furniture outdoor furniture outdoor furniture outdoor furniture outdoor furniture outdoor furniture outdoor furniture outdoor furniture outdoor furniture outdoor furniture outdoor furniture
Adirondack chair adirondack chair adirondack chair adirondack chair Adirondack chair adirondack chair adirondack chair adirondack chair Adirondack chair adirondack chair adirondack chair adirondack chair adirondack chair
outdoor furniture outdoor furniture outdoor furniture outdoor furniture outdoor furniture outdoor furniture outdoor furniture outdoor furniture outdoor furniture outdoor furniture outdoor furniture outdoor furniture outdoor furniture
Adirondack chair adirondack chair adirondack chair adirondack chair Adirondack chair adirondack chair adirondack chair adirondack chair Adirondack chair adirondack chair adirondack chair adirondack chair adirondack chair
outdoor furniture outdoor furniture outdoor furniture outdoor furniture outdoor furniture outdoor furniture outdoor furniture outdoor furniture outdoor furniture outdoor furniture outdoor furniture outdoor furniture outdoor furniture
Adirondack chair adirondack chair adirondack chair adirondack chair Adirondack chair adirondack chair adirondack chair adirondack chair Adirondack chair adirondack chair adirondack chair adirondack chair adirondack chair
outdoor furniture outdoor furniture outdoor furniture outdoor furniture outdoor furniture outdoor furniture outdoor furniture outdoor furniture outdoor furniture outdoor furniture outdoor furniture outdoor furniture outdoor furniture
Adirondack chair adirondack chair adirondack chair adirondack chair Adirondack chair adirondack chair adirondack chair adirondack chair Adirondack chair adirondack chair adirondack chair adirondack chair adirondack chair
outdoor furniture outdoor furniture outdoor furniture outdoor furniture outdoor furniture outdoor furniture outdoor furniture outdoor furniture outdoor furniture outdoor furniture outdoor furniture outdoor furniture outdoor furniture
Adirondack chair adirondack chair adirondack chair adirondack chair Adirondack chair adirondack chair adirondack chair adirondack chair Adirondack chair adirondack chair adirondack chair adirondack chair adirondack chair
outdoor furniture outdoor furniture outdoor furniture outdoor furniture outdoor furniture outdoor furniture outdoor furniture outdoor furniture outdoor furniture outdoor furniture outdoor furniture outdoor furniture outdoor furniture
Adirondack chair adirondack chair adirondack chair adirondack chair Adirondack chair adirondack chair adirondack chair adirondack chair Adirondack chair adirondack chair adirondack chair adirondack chair adirondack chair
outdoor furniture outdoor furniture outdoor furniture outdoor furniture outdoor furniture outdoor furniture outdoor furniture outdoor furniture outdoor furniture outdoor furniture outdoor furniture outdoor furniture outdoor furniture
Adirondack chair adirondack chair adirondack chair adirondack chair Adirondack chair adirondack chair adirondack chair adirondack chair Adirondack chair adirondack chair adirondack chair adirondack chair adirondack chair
outdoor furniture outdoor furniture outdoor furniture outdoor furniture outdoor furniture outdoor furniture outdoor furniture outdoor furniture outdoor furniture outdoor furniture outdoor furniture outdoor furniture outdoor furniture
Adirondack chair adirondack chair adirondack chair adirondack chair Adirondack chair adirondack chair adirondack chair adirondack chair Adirondack chair adirondack chair adirondack chair adirondack chair adirondack chair
outdoor furniture outdoor furniture outdoor furniture outdoor furniture outdoor furniture outdoor furniture outdoor furniture outdoor furniture outdoor furniture outdoor furniture outdoor furniture outdoor furniture outdoor furniture
Adirondack chair adirondack chair adirondack chair adirondack chair Adirondack chair adirondack chair adirondack chair adirondack chair Adirondack chair adirondack chair adirondack chair adirondack chair adirondack chair
outdoor furniture outdoor furniture outdoor furniture outdoor furniture outdoor furniture outdoor furniture outdoor furniture outdoor furniture outdoor furniture outdoor furniture outdoor furniture outdoor furniture outdoor furniture
Adirondack chair adirondack chair adirondack chair adirondack chair Adirondack chair adirondack chair adirondack chair adirondack chair Adirondack chair adirondack chair adirondack chair adirondack chair adirondack chair
outdoor furniture outdoor furniture outdoor furniture outdoor furniture outdoor furniture outdoor furniture outdoor furniture outdoor furniture outdoor furniture outdoor furniture outdoor furniture outdoor furniture outdoor furniture
Adirondack chair adirondack chair adirondack chair adirondack chair Adirondack chair adirondack chair adirondack chair adirondack chair Adirondack chair adirondack chair adirondack chair adirondack chair adirondack chair
outdoor furniture outdoor furniture outdoor furniture outdoor furniture outdoor furniture outdoor furniture outdoor furniture outdoor furniture outdoor furniture outdoor furniture outdoor furniture outdoor furniture outdoor furniture
Adirondack chair adirondack chair adirondack chair adirondack chair Adirondack chair adirondack chair adirondack chair adirondack chair Adirondack chair adirondack chair adirondack chair adirondack chair adirondack chair
outdoor furniture outdoor furniture outdoor furniture outdoor furniture outdoor furniture outdoor furniture outdoor furniture outdoor furniture outdoor furniture outdoor furniture outdoor furniture outdoor furniture outdoor furniture
Adirondack chair adirondack chair adirondack chair adirondack chair Adirondack chair adirondack chair adirondack chair adirondack chair Adirondack chair adirondack chair adirondack chair adirondack chair adirondack chair
outdoor furniture outdoor furniture outdoor furniture outdoor furniture outdoor furniture outdoor furniture outdoor furniture outdoor furniture outdoor furniture outdoor furniture outdoor furniture outdoor furniture outdoor furniture
Adirondack chair adirondack chair adirondack chair adirondack chair Adirondack chair adirondack chair adirondack chair adirondack chair Adirondack chair adirondack chair adirondack chair adirondack chair adirondack chair
outdoor furniture outdoor furniture outdoor furniture outdoor furniture outdoor furniture outdoor furniture outdoor furniture outdoor furniture outdoor furniture outdoor furniture outdoor furniture outdoor furniture outdoor furniture
Adirondack chair adirondack chair adirondack chair adirondack chair Adirondack chair adirondack chair adirondack chair adirondack chair Adirondack chair adirondack chair adirondack chair adirondack chair adirondack chair
syracuse syracusesyracuse syracusesyracuse syracusesyracuse syracusesyracuse syracusesyracuse syracusesyracuse syracuse
syracuse syracusesyracuse syracusesyracuse syracusesyracuse syracusesyracuse syracusesyracuse syracusesyracuse syracuse
syracuse syracusesyracuse syracusesyracuse syracusesyracuse syracusesyracuse syracusesyracuse syracusesyracuse syracuse
syracuse syracusesyracuse syracusesyracuse syracusesyracuse syracusesyracuse syracusesyracuse syracusesyracuse syracuse
syracuse syracusesyracuse syracusesyracuse syracusesyracuse syracusesyracuse syracusesyracuse syracusesyracuse syracuse
skaneateles outdoor furniture outdoor furniture outdoor furniture outdoor furniture outdoor furniture outdoor furniture outdoor
skaneateles skaneateles skaneateles skaneateles skaneateles skaneateles skaneateles skaneateles skaneateles skaneatelesskaneateles skaneateles skaneateles skaneateles skaneateles skaneateles skaneateles skaneateles skaneateles skaneatelesskaneateles skaneateles skaneateles skaneateles skaneateles skaneateles skaneateles skaneateles skaneateles skaneatelesskaneateles skaneateles skaneateles skaneateles skaneateles skaneateles skaneateles skaneateles skaneateles skaneatelesskaneateles skaneateles skaneateles skaneateles skaneateles skaneateles skaneateles skaneateles skaneateles skaneatelesskaneateles skaneateles skaneateles skaneateles skaneateles skaneateles skaneateles skaneateles skaneateles skaneatelesskaneateles skaneateles skaneateles skaneateles skaneateles skaneateles skaneateles skaneateles skaneateles skaneatelesskaneateles skaneateles skaneateles skaneateles skaneateles skaneateles skaneateles skaneateles skaneateles skaneateles
furniture outdoor furniture outdoor furniture outdoor furniture outdoor furniture outdoor furniture outdoor furniture